Table Top Vacuum Packaging Machine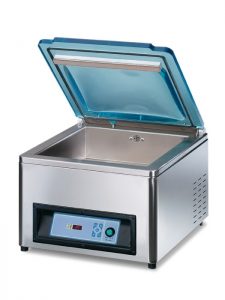 Jarvis India table vacuum machines are reliable solution for the quick, easy and safe vacuum packaging of small products. They are simple to use and create an optimal vacuum that fits the product and ensure a perfect vacuum packaging!
These vacuum chamber machines are ideally suited for regular packaging needs their small dimensions qualifies them for packaging in food retailing, meat shops & food truck. Furthermore, they can be used for the safe and comfortable packaging of sterile medical products as well as consumer goods.
Salient Features-
Programming is fast, simple and guided and allows users to configure the machine according to their specific needs.
The operating cycle is completely automatic but may also be manually controlled.
All the machines in our range feature an EVC system (Electronic Vacuum Control) which uses a sophisticated and reliable digital control system to measure the degree of vacuum and stop the evacuation process when the programmed conditions have been met – thus leaving no margin of error and guaranteeing maximum efficiency and the best packaging results.
The vacuum pumps are powerful, highly dependable and practically maintenance free. They work at low levels of friction, which means a longer life. They can quickly reach a level of vacuum equivalent to 99.8% of atmospheric pressure.
The machine is fast and easy to clean: all stainless steel or smooth surfaces, extractible bars without loose wires, rounded edges and corners.