Spring Belt Type Gloves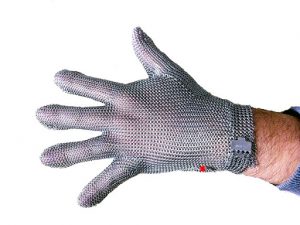 The spring belt glove is more flexible to wear and can be adjusted automatically according to the wrist sizes. It's totally made of 100% stainless steel, to make sure of the high temperature resistance, corrosion resistance and wear resistance. The spring type gloves are more hygienic and easier to clean. All of the spring type gloves are ambidextrous for left and right hand.
We totally supply 7 glove sizes as below and have spring strap with a round plate in different colors to distinguish the sizes:
XXS-Brown
XS-Green
S-White
M-Red
L-Blue
XL-Orange
XXL-Olive Green
Our stainless steel gloves offer the ultimate cut protection. Our ring mesh gloves are made of corrosion resistant, stainless steel rings that are individually welded for maximum strength, flexibility and durability. Metal mesh gloves are hygienic and easily sanitized-our rings resist processing fats and oils and clean up simply with hot water and soap.