30-CL SHEEP NECK CUTTER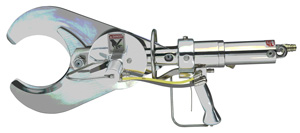 The Jarvis Model 30CL -hydraulic powered sheep neck cutter.

Used for sheep neck cutting through the bone or joint. Also an effective dehorner.
With a 1.5 second cutting cycle (30CL-1), it is a high production, high         performance tool used extensively for the most demanding applications.
Please note these tools have anti-tie down controls and dual control triggers for operator safety.
Meets national and international requirements for safety and hygiene.