PFC-1 Picking Finger Cutter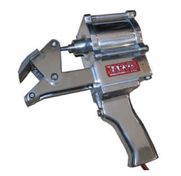 The Jarvis Model PFC-1 – pneumatic powered picking finger cutter.
Lightweight tool only weighs 5.5 pounds (2.5 kg ) – easy on the operator.
Fast and powerful; air powered to allow operators quick finger cutting with little effort.
Stainless steel and aluminum construction – long wear and no oxidation.
More power – larger piston.
No operator fatigue – light trigger pull.
Durable, sturdy design requires little maintenance.
Repairable trigger valve.