SPC-142 Spinal Cord Remover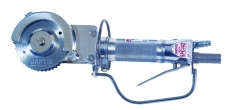 The Jarvis Model SPC-142 — pneumatically powered air saw.
The SPC-142 is ideally suited for opening up opening up mis-split spinal cord cavities in pork.
Lightweight and flexible – allows operators to work single handed, both hanging and on
More power – high efficiency air motor for more horsepower and lower operating costs.
Heavy duty gears made to withstand all uses in the packing plant industry.
Rear end exhaust and constructed from corrosion resistant materials for optimum hygiene.
Instant blade stop.
Meets national and international requirements for hygiene. USDA and CE approved.