SPC 165J Circular Jowl Slicer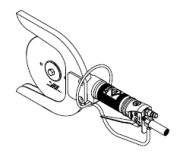 The Jarvis Model SPC-165J — pneumatically powered jowl slicer
The SPC-165J is ideally suited for cutting hog jowls.
Capable of handling 1200 hogs per hour.
Lightweight and flexible – allows operators to work single handed, both hanging and on the table.
Reduces operator fatigue.
Rear end exhaust and constructed from corrosion resistant materials for optimum hygiene.
Instant blade stop.
Meets national and international requirements for hygiene.