SEC-400 Circular Splitting Saw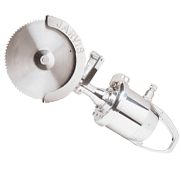 The Jarvis Model SEC-400 — electrically powered circular saw for splitting butcher hogs and sows.
Newest technology for hog splitting on gambrels.
Sealed 5.0 hp electric motor for ultimate performance.
Short overall length and specially designed handles for easy handling.
Available with electrical or mechanical brake.
Electromagnetic starter included for quick and easy installation.
Also available with extra thin stainless steel head.
Smooth surface construction for easy cleaning and optimum hygiene.
Anti-tie down controls for operator safety.
Meets national and international requirements for hygiene and safety.