Buster X Splitting Bandsaw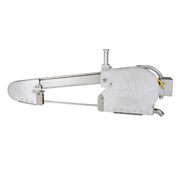 The Jarvis Model Buster X – electrically powered bandsaw.
The high production solution for splitting pigs.
Superfast – a single operator can handle up to 400 hog carcasses per hour.
Superior designed internal spray system for sanitizing front and rear housing.
Hot and cold water spray.
Low profile front end for easy placement of saw between gambrel and hind quarters.
Meets national and international standards for hygiene and safety USDA and CE approved.