JARVIS UV STERELIZER MODEL GS-1
Jarvis India supplies UV knife Sterilizer for superior sterilization compared to other methods or products using magnetic bars or metal racks to secure the knives. Our exclusive non-filtering clear slotted knife holder and special mirrored interior walls eliminate shadows on knife surfaces within the cabinet that could prevent complete sterilization.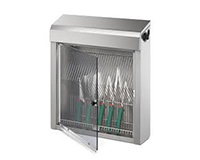 Features
Material used Stainless Steel AISI304 for outer body good for use in wet area.
Sterilization of blades using UV rays (Ultraviolet Light, wave length 256 nm).
Smoked Plexiglas doors with UV protection.
UV lamp 20 W with greater than 5000 hours life.
Automatic lamp switch-off on opening door.
Conforms to HACCP method.
Wall mounted with digital timer.
Clear acrylic knife stand with 8+2(knives+sharpeners) capacity.