MEAT SLICER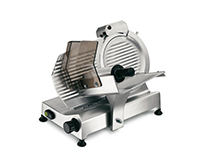 Jarvis India offers meat slicers in different sizes our  range of slicers includes the latest generation gravity, vertical and automatic slicers, ideal for cutting cured or fresh meats in retail shops and supermarkets, or manual slicers (with flywheel) where no power is available.
With our food slicers it is easy to cut your meat into many different thicknesses – even the thinnest slices of meat are a possibility with these crafty tools. Those who choose a meat slicer will be impressed with the cutting speed. Thanks to the rotating blade, cutting meat is swift and trouble-free.
Key Features
Fully silent, high precision machines with smooth sliding trolleys.
The quality of the blades guarantee perfect slicing.
With an incorporated double action sharpener: to sharpen and hone slicing.
Constructed in anodized aluminium.
Meet EC regulations.