MEAT BALL FORMING MACHINE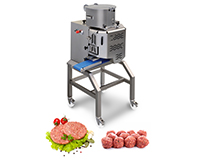 Meatball making machine mainly used to produce fish balls, shrimp meatballs, chicken meat balls, beef balls, mutton balls, vegetable balls & seafood balls.
Key features–
Easy-to-handle machines.
Ideal for small or large productions with different tastes and/or sizes.
Manual production time is reduced and the same weight is maintained in all units.
The thickness of the burger or meatball/croquettes is easily adjustable up to 40 mm in height.
Different diameters of burgers and meatballs are available. Simply change the rotary mould plate. All plates are interchangeable.
They are fully detachable without the use of tools for easy cleaning.
A paper dispenser is included.
Construction: in anodized aluminum.
Comply with EC regulations.