Sandwich Toaster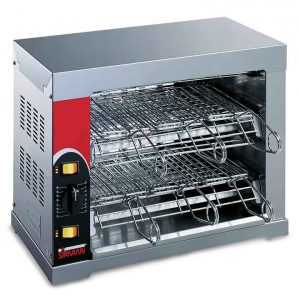 This machine is ideal for heating up pizzas, sandwiches and ready-cooked foods, for cooking ham-burgers, wurstels and rolls.
Features–
MULTIPLE GRILL PLATES: With three different grill plates (waffle, sandwich and grill), you can make almost anything in this convenient appliance.
PORTABLE: Despite the large, anti-stick toasting plates, the toaster remains highly portable and easy to store in your kitchen.
PREMIUM QUALITY: The modern design features high grade, dishwasher-safe toasting plates, while the floating lid ensures a longer life for the product.
SAFETY AT ITS CORE: The anti-slip feet ensure that the sandwich press does not move unless you move it, and the heat-resistant housing protects you and your family from excessive heat. Use the handle to open and close the sandwich press safely.