Ice Crusher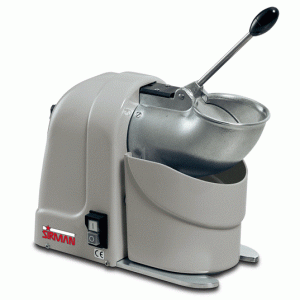 Professional ice crusher, an indispensable bar tool for preparing drinks and frozen cocktails and in the restaurant for displaying fish or fresh food.Crushes any ice cubes made with an ice cube machine up to 40x40mm at -3° C. Its discharge adjustment lets you regulate the average size of the crushed ice.Extruded aluminum body, stainless steel container, food-grade ABS opening and s/steel blades. Ventilated motor with gear transmission for prolonged use, micro-switch on the lid for maximum operator safety.
Features
Triton allows to crush ice in different sizes by adjusting the blade:
– finely crushed ice for the traditional Italian granitas
– flakes for frozen cocktails or to serve or display cold dishes
– safety microswitch on the feeding mouth
– safety microswitch on the collecting tray
– polished aluminium feeding mouth
– stainless steel parts and details
– aluminium and stainless steel internal structure
– body and tray are made from thermoformed alimentary plastic
– ribbed belt for low power absorption.