Conveyor Toasters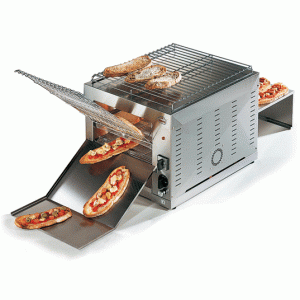 Easy to use and suitable for toasting or heating up bread, bruschetta, pizza, crois-sants, french fries and many other snacks.
Made from AISI 316 S/S with AISI 304 S/S conveyor belt.
Thermal insulation of the chamber.
Fan cooled controls compartment.
The heating elements covered by quarts tubes can be switched on independently.
 Variable speed drive. (VV versions)
Loading and unloading chutes.
Easy to remove crumb pan.
Tilting back closing plate allows rear delivery of the product.