Deep Fat Fryers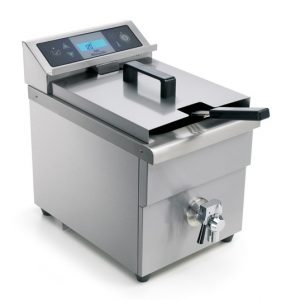 Armored heating elements with shockproof protection easy to disassemble for accessing the heating body which is also removable. Moreover all the machine parts are removable for easy cleaning and maintenance.
Deep fat fryer equipped with double thermostat, safety cut-off probe and reset button in case of resistances overheating, all independent for each basin in order to optimize machine management.
– Stainless steel structure.
– Handy tap for oil removal.
– Quickly heating and extremely easy to clean.
– Splash-proof touch controls.
– Temperature regulation ut to 190° (range is from 60° to 190°).
– Easy setting timer to 120 minutes.
– Extremely visible digital display.
– Buzzer alarm to remind oil level check.
– Oil overheat protection.
– Automatically shut down if unused.