SPC 165 Circular Air Saw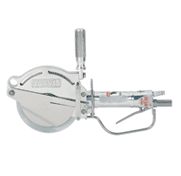 Jarvis Model SPC 165 Circular Saw with Depth Gauge has multiple purposes. With a two (2) inch adjustable cutting depth, it can easily split open a variety of large fish. All stainless construction ensures no corrosion. Instant blade stop action stops the blade at any time.
• Lightweight and flexible – allows operators to use the tool both hanging and on the table.
• More power – high efficiency air motor for more horsepower and lower operating costs.
• Heavy duty gears made to withstand all uses in the meat packing industry.
• All stainless construction.
• Lever style adjustable depth gauge for precise depth control.
• Instant stop blade.
• Meets national and international requirements for hygiene and safety.