BUSTER IX SPLITTING BANDSAW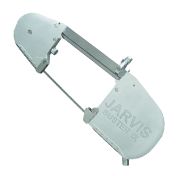 The Jarvis Model Buster IX — electrically powered bandsaw. Used for splitting beef, pigs and horses.

New internal sanitizing system for front and rear housings and blade guides.
Dual anti-tie down triggers and new door interlocks for operator safety.
All saws equipped with anti-tie down board and starters in control box.
Built to CE specifications and approved to all European standards.
Available in all voltages.