MCS 260 CIRCULAR SAW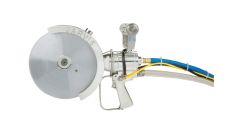 The Jarvis Model MCS 260 — multi-purpose pneumatically powered breaking saw. The MCS 260 with a full 2 hp motor and a maximum 4 3/8 inch (111 mm) depth of cut is ideally suited for primal cutting of:
beef: forequarters, chucks, shoulders, briskets.
pork: chine bones and ham markings.
beef and sheep horns
Lightweight, stainless steel construction — only 15.5 lbs / 7 kg.
Heavy duty gears -made to withstand all scribe saw uses in a packing plant.
Three different blade sizes to best suit the job.
Dual anti-tie down triggers.