ERS-1 SPLITTING RECIPROCATING SAW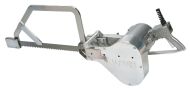 The Jarvis Model ERS-1 – electrically powered reciprocating saw for beef splitting in small kills, custom slaughters and locker plants.

Full 3 hp totally enclosed electric motor.
Handles up to 50 beef per hour.
Total blade exposure – 22 inches (559 mm).
Stainless steel and aluminum construction for maximum hygiene.