Pasta Machine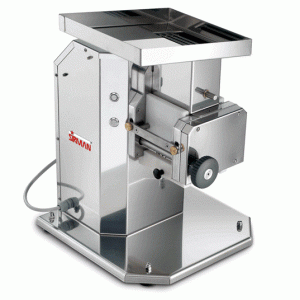 Suitable for producing any size of pasta. Among these formats there are tagliatelle, spaghetti, spaghetti alla chitarra, pappardelle, macaroni of various sizes, as well as pasta sheets of any thickness for the production of lasagne and cannelloni, as well as the typical regional specialties.
 Electric ravioli maker for single-layer extruded ravioli.
Practical, flexible and fast.
 Comes with moulds of different shapes and sizes.
Each component in contact with the pasta can be easily dismantled for efficient and rapid cleaning.
Practical system for adjusting the amount of filling.
Variable-speed independent motor that adapts to any type of machine with high performance.